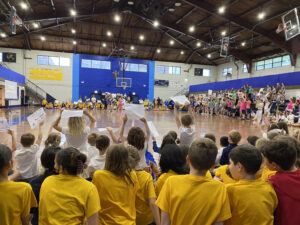 St. Andrew students set a new fundraising record of $4714.14 in this year's annual Penny Challenge which will fund Mauricia's vocational small business trade school education.  The fundraising total and the winning class were announced at an end-of-school pep rally.
The 6th grade class won the competition which is based on the most pennies collected while the 4th grade class collected the most money of $852.  The tally can be complicated, but the general idea is that classes sabotage each other's penny collection by adding "silver" coins to their jug that count against their pennies. Dollar bills are just a bonus.  No matter how you add it up – Mauricia and One Heart Uganda students are the winners.
We first met Mauricia when she was 11 years old and walked 3 hours from her remote village to Lwamata.  Because of the generosity of OHU supporters, she has attended a high-quality boarding school and will now be able to reach her dreams of studying business.  A big thank you to St. Andrew students, families, teachers and administrators for all of your support.