2018 Trip Perspective: Marie Wojdelski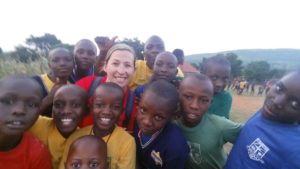 My trip with the One Heart Uganda organization was such a remarkable experience that I will keep close to my heart.  As a teacher, I am always looking for different opportunities to learn and traveling to Uganda taught me many important lessons.
I learned how warm and welcoming people can be to complete strangers.  From the moment we landed in Uganda, we were greeted with open arms and taken care of like we were old friends with everyone we came into contact with.  Another important lesson is the power of being able to adapt.  Traveling to another country can prove to have challenges and things that I may not be accustomed to but being able to embrace different cultural experiences allowed me to open my mind and completely change my mindset about a culture I knew very little about.  This trip also provided me the opportunity to realize that students genuinely have a passion for learning.  I was fortunate enough to spend some time in the classroom and even though there may have been a language barrier at times, the students were not shy about asking questions or trying to improve their English.  Teaching for a brief time in their classrooms made me realize how little I need to help influence a student's learning and it helped re-energize me for my own classroom this coming school year.  I want my students to be excited about learning just as the students were in Uganda.
These are just a few of the things that I learned on my journey.  Uganda was an incredible and amazing experience that has changed me as a person and helped me grow.  I was so fortunate to meet a group of people that I did not know personally before the trip, but now I feel like they are family.  I am so grateful for the opportunity and hope that I can return in the future.
Marie teaches speech and drama at Thornton High School on Chicago's South Side.