2018 OHU Trip Perspective: Ellie Arndt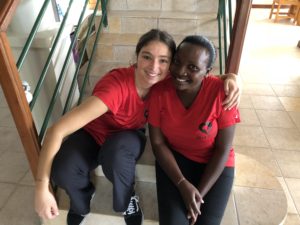 Another successful trip in the books! It was amazing to be able to visit Uganda for a second time, and this year, with a whole new group of people. Because I was at college for many of the initial trip meetings, I met the group only a few weeks before we began our journey, but it did not matter because our team clicked immediately. It was so great to be with people that made me laugh every day. It was touching to see my team get to have the initial experience and culture shock that I had the first time I traveled to Uganda.
One special surprise that I got was being able to be with Jackie, the young woman my family sponsors, the whole time our team was in Uganda. I got to meet Jackie and be with her a few days the last time I visited, but it was so fun to travel with her for the whole 14 days this year. Jackie and I both want to be veterinarians, which is really fun because we are able to share the similarities and differences between veterinary medicine in Uganda and the U.S.
She fit right into our group and was a great help throughout the whole trip, whether it was translating, helping with directions, or giving us overall tips on how to live in Uganda. It was so hard to leave Jackie, after becoming so close to her in such a short period time, but we have continued to Snapchat and email since I have been back in Chicago, and she sends me daily pictures of the animals that come into the animal hospital where she works. I have felt extremely lucky having the opportunity to build such strong relationships with people across the world. It was great to watch other people begin similar relationships with their students and all the other children and adults we met while we were there. I hope to return to Uganda soon and see my friends, especially Jackie, again!
Ellie is a graduate of St. Andrew School and will begin her sophomore year studying Animal Science at University of Wisconsin – Madison, this fall.