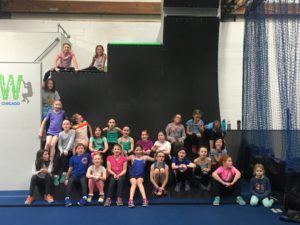 Harper Jordan and her third-grade classmates have done it again!  For the second year in a row, Harper has dedicated her birthday party to help serve lunch to the students of St. Venansio primary school in Central Uganda.  Topping her total from last year, Harper and friends raised $800 that equates to feeding 220 students for three months!
When we visited St. Venansio in June, we witnessed the power of what Harper put in motion, as all of the school's students lined up and received a hearty meal for lunch.  Without this assistance, many students who can't afford a school lunch have to wait until they get home late in the day to eat.
Harper celebrated her ninth birthday at the Junior Ninja Warrior gym in Chicago, where she and her friends mastered monkey bars, climbing walls and obstacle courses.  Helping students half way around the world concentrate and learn with a full stomach is no obstacle for this group, who clearly have mastered the art of giving.
Way to go One Heart Warriors!