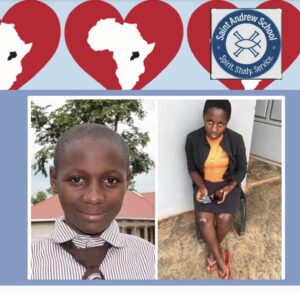 St. Andrew School students and families met the challenge to raise enough money through a coin collection to fund Mauricia's vocational school scholarship.  The annual Penny Challenge raised $4,747 – enough to cover Mauricia's 3-year vocation school program and supplement two other post-secondary students' scholarships.
When we first met Mauricia, she was 11-years old and the youngest of her mother's four children. Thanks to the support from One Heart Uganda sponsors, she was able to excel in a high-quality boarding school for primary and secondary education.  Next, she'll follow her dream to run her own business and design clothing by attending the YMCA Institute in Kampala.
For many young people in Uganda today, being an entrepreneur and running their own business can provide financial stability. St. Andrew School students' generosity has funded a dream halfway across the world.
Thank you for helping us to deliver the gift of hope and inspiration through education.