2018 OHU Trip Perspective: Kelly Shea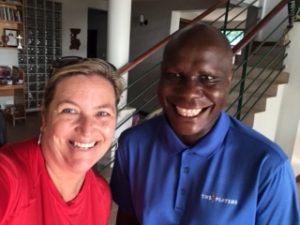 This summer I was fortunate enough to experience one of my lifelong goals. I had the privilege of traveling with a wonderful group of people to Uganda. We visited our sister school, Saint Andrew in Uganda and our scholarship recipients. It was better than I could have imagined. The Ugandan people from the community where we stayed were sincere, kind, welcoming, spiritual, and very gracious.
I met Father Matthias years ago at Saint Andrew Parish while he was visiting. His happy smile, gentile disposition, and authenticity transformed me. When I heard him speak at Mass about building a Catholic school in his community, I was inspired.
Our group stayed close to his parish, St. Charles Lwanga, and joined him in many meals at the rectory. I had an opportunity to see that he is everything I thought he was and more! He is a true servant of God and his community in every possible way. This amazing experience enhanced my belief and commitment to our scholarship program One Heart Uganda.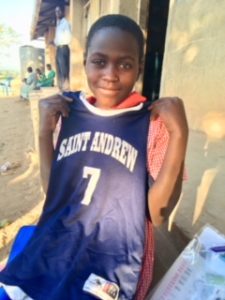 We met 124 students, hand delivered their special care packages, fit them with new shoes, and were able to sit and talk with them. We had to visit them in different places, parishes and villages. Sometimes we traveled a few hours just to see two or three students.
On one trip we visited a student, Lawrence, who attends a deaf school. He came running out into Father Matthias' arms as soon as he saw him. It was a very special moment to witness. Next, we visited the classrooms to see how the students learn with the art of sign language. It was incredibly impressive and motivating.
I also had the honor to teach a few lessons to a classroom full of eager students. It was a teacher's dream. The students were very attentive, polite and diligent. They could not have been more polite when asking if they could escort us home and maybe receive a book. As a teacher this was an absolute delight! Visiting the secondary school which is named after our school (Saint Andrew in Chicago) was very touching.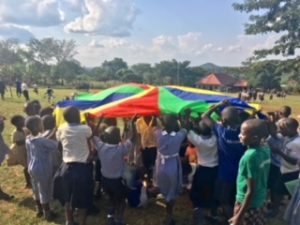 We were invited to worship at Mass with two different parishes and that was exhilarating. Needless to say, this journey exceeded my expectations and was a testament to how God is working through others in today's world.
I have so many wonderful stories to share. I am so happy to know these students' names and their faces. Forever in our minds and hearts. Happiness transcends across continents and cultures.
We love you Uganda! Here are some photos of pure joy!
Kelly is a teacher at St. Andrew in Chicago and a director on the board of One Heart Uganda.