2018 OHU Trip Perspective: Ivette Cebrero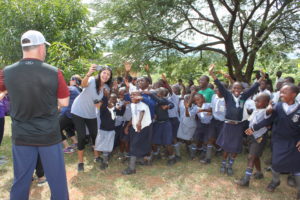 Uganda is filled with beautiful people and amazing scenery that will always have a special place in my heart. From the moment our group landed I knew it would be a trip we'd never forget. Everyone was so welcoming as we arrived at the beautiful Bethany House before continuing our journey throughout central Uganda. Once we arrived at Lwamata, we were greeted with bright smiles from the kids, which was one of my favorite parts. They were so excited to see us but we were probably more excited to see them.
I loved all the relationships I built with everyone there and visiting all the other schools was truly life changing. The kids were so inspiring and they had such high aspirations that I know one day they will achieve their dreams.
It's hard to choose what my favorite parts were because everything was unbelievable, from visiting the kids to going on a safari. I cannot put into words just how incredible this experience was for me and I can't wait to go back!
Ivette is a graduate of St. Andrew School and more recently the University of Illinois – Champaign.  She will continue her education in law school this fall.