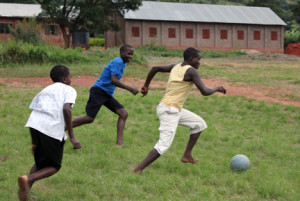 Play is an important part of the lives of young children.  As my mom and I began planning our trip to meet the students, who are a part of the One Heart Uganda scholarship program, I began to think about bringing soccer balls.
Soccer is a sport that's loved around the world and easily played with just a ball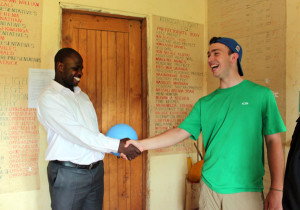 and an open field.  I did some research on durable soccer balls and I found this very cool company – One World Futbol – that makes balls that are indestructible and matches each purchase with an additional ball donation.
Next, I asked friends and family to donate one soccer ball ($40) and soon I had raised more than enough money to bring my goal of ten balls.  As a result of everyone's generosity, I was able to purchase an additional ten balls in Kampala.
As we visited different schools during our trip, I gave each headmaster a soccer ball.  Sometimes we'd go out and start playing right outside the classrooms.  The kids loved the soccer balls and they were the perfect fit for the conditions in Uganda.
The whole experience reminded me how generous my friends and family are and it was great to see the joy a simple soccer ball brought to the children.
 – Will Arndt
[vc_separator icon="heart"]
Click on the thumbnails below to view larger images
[vc_gallery ids="408,409,410,411″ type="s"]