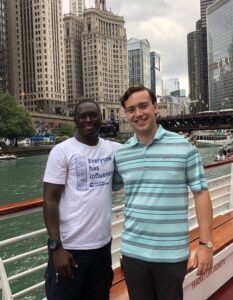 "Most young graduates need to begin to think of themselves as their own heroes.  Because we have been receiving a great deal of help from the West, there is a majority of young Africans and particularly Ugandans, who think that the hero is always outside the country – the hero always comes from the other side of the continent, which I think is wrong.  I think the next century of our continent has to be around entrepreneurship and developing young Africans, who can begin to create businesses that will support the economy of the future," said Javis Mugagga Lubwama.
We first met Javis this June while Will Arndt was traveling in Uganda to accomplish some administrative duties for OHU.  Javis is the Communications Director for the Cornerstone Leadership Academy, which selects 25 women and 25 men each year to participate in an advanced secondary boarding school that focuses on leadership and character development. Will was able to tour the school's impressive facilities with Javis and meet their directors.
Recently, Javis visited Chicago and we had the opportunity to learn more about his personal mission to advance entrepreneurship with university graduates.  The job market is very tough in Uganda and even with degrees from the best universities, graduates can struggle to find employment. Javis believes that one remedy is to establish a mentorship program, where successful business people from around the world can share their knowledge with Ugandan graduates and explore ways to succeed as entrepreneurs. Mentoring paired with local training and access to low interest rate capital loans will help to spawn successful businesses and entrepreneurs.
We look forward to following Javis' progress and helping our scholarship students explore entrepreneurial opportunities.
Watch a message from Javis: