2018 OHU Trip Perspective: Tim Richards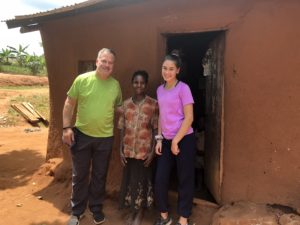 My trip this summer with One Heart Uganda was special on many levels.  I will have life-long memories of our wonderful team, the amazing priests and most of all, the amazingly humble, gracious and joyous children that we support.
The experience was also very special because my oldest of two daughters, Sydney, who is starting high school this fall was able to join me.  Her maturity, ability to get along with our diverse team and amazing love for the children inspired me. Our experience together will be a life-long memory that she and I will always share.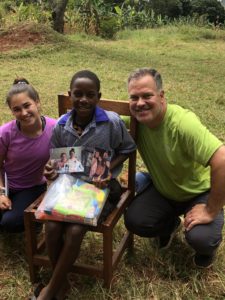 Perhaps the most profound moment (and there were many) of our trip for me was the day that we drove through the rough terrain of the Ugandan foothills to see the student that our family sponsors, Innocent Nkamuhebwa.
About a mile or so before we reached his school, Father Matthias stopped his car on the side of the dirt road by a typical rural home.  I asked why we were stopping and he simply replied that we needed to meet someone.  Father went on ahead of us and then called Sydney and I over to meet Innocent's mother, who then invited us into her house and we took this picture.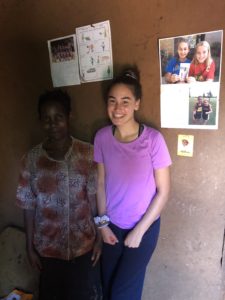 As we were leaving the home, two young children (Innocent's siblings) peered out of the front door.  It was at that moment that I truly understood the difference that the sponsoring families are making for One Heart Uganda in giving these children an opportunity that they simply wouldn't have without our support.
The overall experience will always stay with me and I am very thankful to be part of an organization that is truly changing lives.
Tim Richards is an OHU sponsor and director on the One Heart Uganda board.