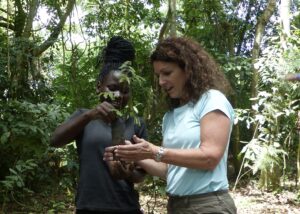 There's something magical about planting a tree and imagining how it will grow. We experienced this during a recent tour of the Bethany Land Institute (BLI) Lazarus Forest. During our visit, we learned how the Luwero District forest has been reclaimed and 30,000 trees have been planted to date. BLI's goal is to plant 1 million new trees by 2050 and to reforest 86 acres in the next 5 years.
A big part of the program is community outreach and helping local residents understand how the protection of the forest will provide everyone long-term benefits. The tree nursery provides free saplings to the local community and BLI provides ecological education to residents and primary school students.
BLI's integral ecology mission includes two other components: Mary's Farm and Martha's Market. Each year BLI welcomes a new cohort of caretakers, who reside at BLI and participate in a two-year program learning sustainable agriculture and business. It's our hope that some of our scholars will participate in this program to become leaders in the future of rural transformation.